Not A Fancy Restaurant? We Have You Covered, Too.
Our services go well beyond the kitchen. We serve the needs of industrial and manufacturing facilities as well. Here at Facilitec West, we understand the need for proper airflow and fire safety, no matter what industry you're in.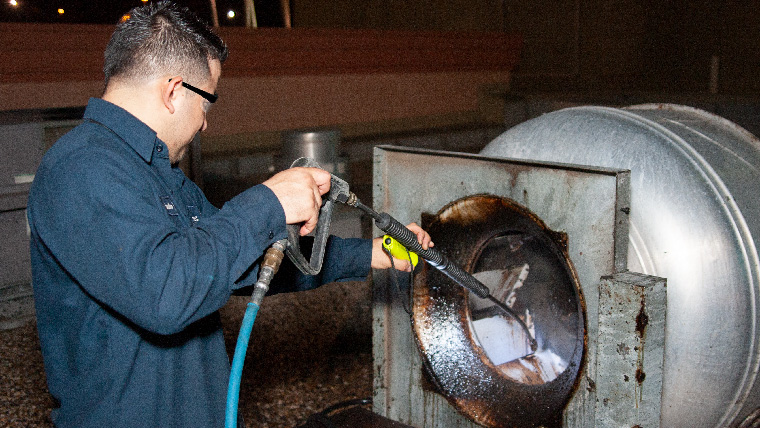 Who We Work With
We pride ourselves in understanding the needs of a variety of industries. Many of our top customers are in:
Other Industrial Facilities
They create exhaust effluent laden with oil, grease and other chemicals. As these build up in the exhaust system, they inhibit proper air flow, becoming both a fire and health hazard.
Why Schedule Regular Cleanings?
Regularly scheduled cleanings of your exhaust, grease, chemical and fume hoods will help by:
Decreasing the build-up of hazardous fumes within your facility.

Increasing your equipment efficiency.

Helping to prevent deadly, costly fires.
Facilitec is available for last minute servicing as well as regularly scheduled maintenance. We can come to you both during and after hours, as well as provide 24-hour emergency services.
What We Do
We provide services that not only keep your facility clean but up to code. We see many of our customers try to just clean the hood or filters in order to save money. However, this dangerous shortcut can leave your building vulnerable to fires and other structural damages. Our industrial services include:
Our complete services can be customized to fit your needs.
Ready to Schedule Your Cleaning?
Our technicians are trained in the latest techniques and consistently meet even the highest expectations of our customers. If you're not 100% satisfied, we aren't doing our job.
Experience the difference with Facilitec West, a team you can rely on. Call us today at 888.463.2293.