When Your Kitchen Hood Needs To Be Thoroughly & Reliably Cleaned
The majority of our clients are in the foodservice industry. We have a vast amount of experience in a variety of kitchen sizes and types. When you need someone you can rely on for meticulously thorough commercial kitchen hood cleaning, to meet or exceed fire codes, you can rely on our team at Facilitec West.
Facilitec Southwest's hood cleaning process keeps your kitchen safe and code-compliant by removing the food and grease residue that can cause exhaust hood fires.
What we do:
Hand-scrape the exhaust system.
Apply the industry's best cleaning solutions.
Pressure wash the system.
Repeat the process as many times as is needed to guarantee the hood is completely clean, safe and compliant.
We specialize in all restaurants, and are one of the few hood cleaning companies in the southwest who provide hood cleaning and grease control for mall restaurants. Restaurant tenant leases rarely address exhaust system issues, leaving cleaning and maintenance under-addressed or completely ignored. Facilitec Southwest are industry experts in addressing these unique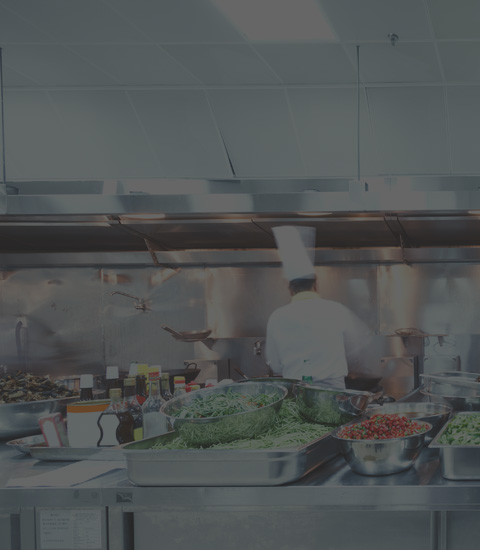 What We Clean
Our technicians at Facilitec West make sure the whole kitchen exhaust system is cleaned. This includes your kitchen's:
Vertical & Horizontal Ductwork
Our three main tools for success include 1) An exclusive formula consisting of safe and effective chemicals 2) High-end cleaning equipment and 3) Trained employees with a mastery of kitchen exhaust cleaning.
Who Are Our Clients?
We pride ourselves on being trained and experienced in providing cleaning excellence for a variety of kitchens, including:
High end to fast food restaurants.

Hospitals, hotels and assisted living communities.

Schools and universities.
Mall restaurants are unique tenants for property developers due to their businesses generating grease and posing a fire risk. The grease from their kitchens can vent out and pool on the mall roof, causing structural damage. It's not always clear who is responsible for restaurant grease containment in a lease situation. Don't wait for a health or safety issue to happen. Call Facilitec West for your free evaluation. We can help you determine what type of grease containment solution would be most effective in your situation.
Why Use Facilitec West to Clean Your Kitchen's Hood?
At Facilitec West, we have been keeping kitchens fire safe since 1986. We provide a level of quality cleaning and service you can depend on.
What you can expect from a cleaning from Facilitec West:
Better energy savings, with a system running at its peak performance.

Less smoke and odors in the kitchen or facility.

Less risk of food or product contamination.

Reduce excess heat, making a cooler environment for employees.

Reliable, expert technicians with integrity – never a subcontractor.
Are you ready for a free consultation? Contact us today to schedule an appointment. We are happy to tailor our services to your needs. Call us today at 888.463.2293.